The human body consists of complex systems that work together to keep you running day-to-day. Some doctors specialize in each of these various systems in order to provide comprehensive care for diseases and problems relating to their field of expertise. Similar to the way cardiologists specialize in the heart, gynecologists specialize in the female reproductive system, a specialist, also known as a phlebologist, is a doctor who specializes in treating vein-related conditions. The conditions that a phlebologist treats include spider and vascular veins, chronic vascular insufficiency, vein-related ulcers, vascular thrombosis, and other vein diseases. This means that apart from completing a medical degree, they have undergone further training and specialization in the human vascular system. Some vein specialists may also have further training in related medical fields such as dermatology, hematology, vascular surgery, or general medicine.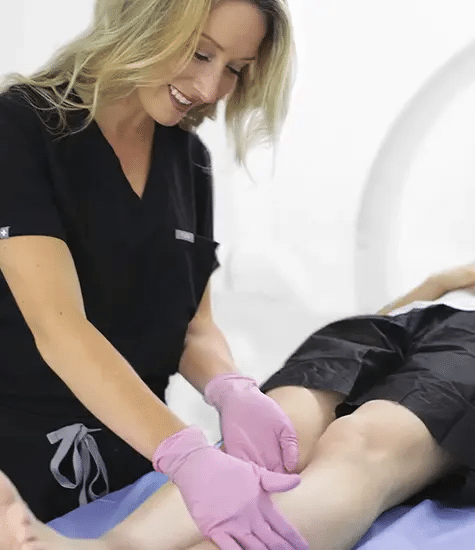 When do I need to see a vein specialist?
If you notice any symptoms that point towards a vein disease, you must see a vein specialist. Symptoms to look out for include:
the appearance of spider and varicose veins,
swelling of the leg and ankles,
leg pain,
leg fatigue,
dry and itchy skin over the spider and varicose veins
These symptoms could indicate poor blood circulation, which could mean there are issues with veins. It is important to book an appointment with a vein specialist if these symptoms exist.
If you have spider and varicose veins but none of the other associated symptoms, you don't need to worry about your health. You may still want to see a doctor because you are unhappy with their appearance and want to remove them; make an appointment with our vein clinic to speak with a vein specialist here. They will be able to help you with your problem.
How do I see a vein specialist?
Sometimes, you might need a referral to see a vein specialist. This is especially true if your medical fees are covered by insurance.  Some insurance companies may require a referral to cover treatment so they can verify that it is medically necessary.
However, there is a way to work around this. If you are experiencing symptoms that point towards vein diseases, you can simply contact the vein clinic for an appointment. It is possible for the front office staff at the vein clinic to obtain a referral on your behalf. Speak to the vein clinic about this when you book your appointment. They can then gain an understanding of your insurance coverage and maybe even obtain a referral for you without you having to go through the hassle of visiting your primary care physician.
Dr Jasmine Koo is a double board-certified doctor who studied at the University of Washington and Chicago Medical School. Dr. Koo specializes in minimally invasive treatments for spider and varicose vein removal in San Diego. Her area of expertise includes treatment techniques such as sclerotherapy treatment, radiofrequency ablation, and VenaSeal treatment. Here at our Vein Clinic, this California local stands out not only for her immense knowledge and experience but also for the kindness with which she treats her patients. In her care, your comfort and well-being will be put ahead, and her kind and approachable nature mean that your concerns and queries will always be heard.
Dr. Billy Schoenfield is the co-director of the Spider and Varicose Vein Clinic in San Diego and San Jose. He is a double board-certified doctor who studied at Harvard Medical School. Not only is he experienced in treating Chronic Vascular Insufficiency, a condition that causes spider veins and varicose veins, but Dr. Schoenfield also has advanced training in ultrasound and venous access.
Top Vein Specialists in California
If you decide to choose the Vein Clinic for your treatment, you will be treated by a team of highly experienced vein doctors who are at the top of their fields. All our doctors have been trained at Ivy League universities and are double board-certified. Our clinic offers cutting-edge, state-of-the-art technology and world-class medical infrastructure for your treatment and care. Our vein specialists know to keep patients' comfort ahead and treat them with friendliness, patience, and kindness.
Our vein clinic in San Diego is currently located near the Torrey Pine beach state park, close to the Westfield UTC Shopping Center. In San Jose, our vein clinic is located in a beautiful neighborhood near Palo Alto, Sunnydale, and Santa Clara. It is down the block from the Santa Clara Medical Center and the Santana Row Shopping Mall. Our vein doctors can offer the best care possible to help you.