How to find a spider vein clinic near me in San Diego?
Are you searching to find the best spider vein clinic near me in San Diego? Choosing the right vein treatment center can be difficult and there are many things to consider to make sure that you make the best decision. This article discusses what you should be thinking about when searching for a top vein clinic. It also highlights some key information about the symptoms of spider veins, what causes them and how they can be treated.
A top vein center will:
Have excellent vein doctors
The quality of vein doctors within a vein center is the most important thing to consider. A vein doctor, or phlebologist, can come from a range of different medical specialties, such as vascular surgeons, cardiologists, emergency medicine doctors and anaesthesiologists. These doctors will need to undergo extensive training to enable them to treat vein diseases.
Choosing a board certified vein dr provides you with extra reassurance about their experience and skill. A top vein physician will be recognized by the American Board of Venous Medicine. Look for spider vein doctors who have graduated from some of the most prestigious institutions, such as Harvard Medical School.
Make sure that your chosen vein doctor has extensive experience at diagnosing and treating vein diseases and that they are highly skilled and certified in vascular imaging.
Find out whether the vein clinic staff are hospitable and approachable. They should take the time to listen to your queries and concerns and offer you information and answers that are easy to understand and insightful.
Have state-of the-art technology and equipment
You will want to choose a spider vein treatment clinic which offers the very latest state-of-the-art equipment and procedures.
Offer minimally invasive vein treatment options
Minimally invasive vein treatments are much safer, easier and more effective than surgical treatments. Find a spider vein treatment center which offers minimally invasive vein treatments, such as, sclerotherapy, radiofrequency ablation, VenaSeal and Varithena.
Prioritise a thorough diagnosis of underlying vein disease
Spider veins and varicose veins are a sign of underlying vein disease, or venous insufficiency. Chronic venous insufficiency occurs when veins in your legs malfunction, affecting the efficient return of blood to the heart and causing blood to pool below these valves.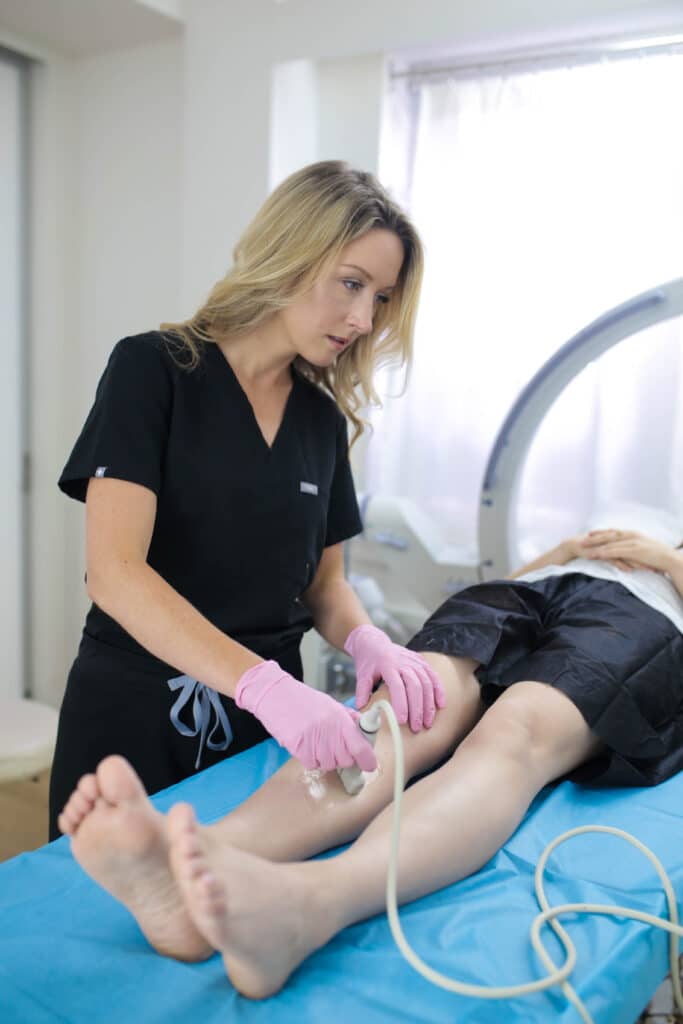 What are the symptoms of venous insufficiency causing spider veins?
So, what are some of the symptoms that you may notice if you have underlying venous disease? While having a few spider veins may be normal or just a result of a single damaged valve, the presence of a large amount of spider veins may suggest chronic venous insufficiency.
You may also notice other signs of venous insufficiency including chronic skin changes, such as a red discolouration of the skin due to the breakdown of blood cells and the development of skin ulcers.
Venous insufficiency may cause your legs to feel achy or heavy. You may also notice throbbing, itching or burning in the area around your spider veins. Symptoms tend to be worse at the end of the day as blood has pooled beneath the problematic valves. You may also experience some cramping or 'charley horses' and restless legs at night time.
Exercise can help to ease the symptoms of vein disease as it helps to improve your circulation.
What causes spider veins?
There are a number of factors that increase your risk of developing vein disease. These include:
Genetics
Female gender
Pregnancy
Age
Previous blood clots in your legs
Obesity
An occupation which requires long periods of sitting or standing, such as nursing, teaching or driving
All of these factors either weaken the valves in your veins or cause the walls of your veins to relax.
What is the best minimally invasive treatment for spider veins?
The first stage of treatment for any spider veins and varicose veins should be an accurate diagnosis of underlying vein disease. This involves using an ultrasound to obtain images of the veins within your legs. Top spider vein and varicose vein doctors will have vast experience in identifying underlying venous insufficiency.
After diagnosis of vein disease, your vein doctor can offer you several types of minimally invasive spider and varicose vein treatments. These include sclerotherapy, radiofrequency ablation, VenaSeal and Varithena. Surgical treatments are not typically recommended as they are invasive, leading to a greater risk of adverse effects and complications and increased downtime.
For spider veins which are purely cosmetic, with no underlying venous insufficiency, sclerotherapy is the most effective treatment choice. You may have also heard about laser vein therapy for the treatment of spider veins, but this is an extremely long process and significantly more expensive than sclerotherapy.
Schedule your vein appointment now at a top vein center near me
It is essential that you get your varicose veins and spider veins treated as soon as possible to ensure you don't experience any further complications. Vein Treatment Clinic is a highly reputable vein treatment centre with some of the very best vein specialists. This San Diego clinic offers minimally invasive vein treatments using state-of-the-art technology. It is located in a beautiful area near to Torrey Pines beach state park or Westfield UTC shopping center if you want to combine it with a bit of retail therapy! Schedule your appointment with a top spider vein specialist today.