Wondering Which Vein Treatment Is Best for Spider or Varicose Veins
Our California Vein Doctors Offer the Newest Technology for Varicose and Spider Vein Treatment.
Are you interested in vein treatment but confused by the various options? Read on to learn the benefits and downsides of each treatment so you can feel confident in your selection. The experts at California Vein Center explain each procedure in detail, providing everything you need to choose the best vein specialist and best vein treatment in San Diego!
If you've postponed vein treatment because of the experience your parents or grandparents had, you'll be glad to know that vascular technology has made tremendous strides over the past 30 years. Treating spider veins and varicose veins used to be a slow and painful process. Now, minimally invasive procedures provide superior results in a fraction of the time, with little to no discomfort. But choosing the right treatment, as well as the right doctor, are instrumental in getting results. Here, you'll learn the best treatment for you, based on your unique symptoms and preferences. You'll also learn how to select the best vein specialist in California near your location.
To achieve lasting results, patients need to understand the cause behind their condition. While spider veins and varicose veins appear at the surface of the skin, the problem might lie deeper. Venous insufficiency is a common condition wherein the veins below the surface aren't working correctly. Rather than efficiently pumping blood toward the heart, valve dysfunction allows blood to collect in the veins, causing a surplus of pressure within the venous walls. This strain on the veins either causes them to bulge and twist, creating varicose veins, or it causes tiny thread veins called spider veins to form and branch out from the damaged vein. Venous insufficiency often becomes chronic, which is one reason it's so important to choose a board-certified vein expert. Trained doctors know to check for this insufficiency beneath the surface, rather than only treating the veins they can see.
Also known As:
Radiofrequency ablation, laser ablation, RF ablation.
Best For:
Larger varicose veins, venous insufficiency, restless legs, discomfort, leg fatigue, cramping, and heaviness
What Is Endovenous Ablation?
Ablation is a process whereby energy is used to eliminate diseased veins. Different types of energy, including laser and thermal, can be delivered directly to the deeper veins, a few centimeters below the surface, that produce the unsightly surface veins. Targeting those deeper veins destroys the broken valves that invoke the pressure that causes spider and varicose veins. Blood can then flow seamlessly in the correct direction, back to the heart.
How Does Endovenous Ablation Work?
Endovenous ablation begins with your vein doctor numbing the skin's surface before directing a small device right to the unhealthy vein. The vein is then surrounded with tumescent anesthesia that protects and numbs the area. The tiny tool uses radiofrequency to generate heat through intense sound waves and direct it at the walls of the vein. This technique causes the vein to seal shut, rerouting blood to healthy veins that perform proper circulation. This swift procedure takes less than 30 minutes and typically requires no general anesthesia. Trained vein specialists recommend endovenous ablation over surgery for the vast majority of patients, since it's safer, gentler, faster, more affordable, and requires no downtime. All types of ablation, including radiofrequency (RF), laser (DVLT), and ClosureFast, use a similar process, but differ in how they create heat. Radiofrequency utilizes sound waves, whereas laser therapy uses light. Ask your vein doctor in California about their preferred method and be sure they explain their reasons for choosing it. All good vein centers will offer endovenous ablation, as it has a decade-long track record of safety and efficacy. The doctors at California Vein Center are highly proficient, having performed hundreds of ablations since the method's inception.
One of the top advantages of radiofrequency ablation is that it's safer and more effective for veins that would otherwise require surgery. Its introduction significantly reduced the number of patients who have to undergo vein stripping, which is a painful and costly endeavor. RF is often covered by insurance and allows patients to go right back to work. The safety, affordability, and convenience make it a top choice for California patients and doctors alike.
Pros Summary:
Gentler and safer than surgery
More effective than vein stripping
Typically covered by insurance
No general anesthesia or hospital stay
The advantages of endovenous ablation have led manufacturers to create multiple machines and devices with inconsistent results. Success depends upon the doctor and the machine used in the procedure. Choose a vein expert in CA state with extensive experience in the technique they're using to ensure a positive outcome. In addition, the tumescent anesthesia used to surround the vein requires an expert hand to avoid discomfort. Choose a CA vein expert with extensive experience in the technique they're using to ensure a positive outcome.
Cons Summary:
Requires an expert hand
Untrained doctors might cause discomfort
Different machines yield different results
Is Endovenous Ablation a Good Option for You?
The safety, convenience, and precision of ablation make it a good choice for most patients. The majority of patients receive insurance coverage for endovenous ablation, making it an affordable choice. At California Vein Center we primarily perform radiofrequency ablation, since most patients find it more comfortable than laser ablation.
Also known As: Vein Glue
Best For: Venous insufficiency, leg fatigue, restlessness, cramping, heaviness, and leg discomfort.
What Is VenaSeal?
Medtronic introduced this new technology in recent years that utilizes glue, rather than heat, to close problematic veins. The cyanoacrylate adhesive has been used successfully in other procedures but is a new modality for spider and varicose veins. It's application to vein treatment is preceded by an established safety record in other medical fields.
How Does VenaSeal Work?
Vein doctors use ultrasound technology to locate the problematic vein and then numb an entry point on your skin. The doctor then inserts a catheter into the vein. Via ultrasound, the doctor ensures that the catheter's tip is perfectly placed, and then gradually injects the cyanoacrylate adhesive through the catheter into the blood vessel. The damaged vein then glues itself shut, diverting blood into a different vein that's capable of transporting it to the heart.
VenaSeal won't cause swelling, like the tumescent anesthesia used in ablation will. It can also disperse throughout several branches of veins, possibly closing multiple damaged pathways.
Pros Summary:
Latest technology
A good choice for veins that fail other treatments
Disperses for broader impact
Since VenaSeal is so new to the field, it's still being studied for long-term effects. Some patients have an allergic reaction to VenaSeal. The cyanoacrylate solution hardens and remains in the body permanently, which is disturbing to some patients. Many insurance plans don't include VenaSeal yet, so check with our vein center in California regarding coverage.
Cons Summary:
New technology with undetermined long-term effects
Some patients are allergic to the adhesive
Leaves a solid implant in the body
Not always covered by insurance
Is VenaSeal a Good Option for You?
VenaSeal is a good choice for patients once they're pre-screened by their doctor for a possible allergy. Patients who have already tried other treatments should also consider VenaSeal. In addition, patients whose insurance covers VenaSeal or who are comfortable with their financial portion are good candidates for VenaSeal.
Also known As: Cosmetic sclerotherapy, saline injections, STS, salt solution injections, vein injections
Best For: Spider veins or small varicose veins.
What Is Sclerotherapy?
A medical irritant, known as a sclerosant, is injected into a vein to induce its collapse. Closing the vein makes it lighter and smaller, enhancing your appearance.
How Does Sclerotherapy Work?
Surface veins amenable to sclerotherapy can often be spotted visually by your doctor. Other times, the vein doctor will use an ultrasound machine to locate slightly deeper veins. Using a tiny needle, the physician will either inject the vein directly, or via ultrasound with a sclerotherapy solution designed to irritate the vein walls. This action causes the vein to collapse, minimizing its symptoms and visibility. Several sclerosants exist, including the original formulation of concentrated salt water called hypertonic saline. However, the latest sclerosants are far more comfortable for patients, which is why our vein doctors in San Diego choose them over older sclerosants.
A sclerosant's liquid state maximizes its transit through the twists and turns of varicose veins. The catheters used in endovenous ablation aren't able to access those tight bends in the vein. Sclerotherapy is the fastest way to target spider veins right at the skin's surface. With a trained doctor, sclerotherapy exceeds the safety and efficacy profiles of laser therapy for spider vein treatment.
Pros Summary:
Outperforms other spider vein treatments
Instant results
The success of sclerotherapy depends on the medication used and the expertise of your doctor. Sclerosants are available to practitioners at various concentrations and prices. Doctors need to choose the highest quality products and know how to properly dilute the ones that require the addition of sterile water. Results are largely determined by your doctor's selection of and proficiency with a particular sclerosant. Inferior medicine and improper dosing can cause skin discoloration, as well as significant discomfort. In addition, failure to properly locate the vein leads to complications like necrosis, if an artery receives the sclerosant instead of a vein. The doctors at California Vein Center are experts in sclerotherapy.
Cons Summary:
Ultrasound training to locate veins is important
Experience in dilution and dosage of sclerosants required Medicine quality impacts results
Is Sclerotherapy a Good Option for You?
Sclerotherapy is an excellent choice for patients with spider veins but no venous insufficiency. Varicose vein patients who aren't candidates for RF ablation or VenaSeal should also consider sclerotherapy.
Also known As: Vein injections, foamed sclerotherapy.
Best For: Large or small varicose veins.
What is Foam Sclerotherapy?
Foam sclerotherapy agitates the liquid used in traditional sclerotherapy to produce a therapeutic foam. Since most sclerosants have a detergent formulation, this agitation creates bubbles that fill larger veins with less medication than necessary in liquid form. Keeping dosage lower for the patient, foam is also more visible to doctors through ultrasound, enhancing the observation of the sclerosant's progress.
The Procedure
Much like liquid sclerotherapy, this procedure begins with your doctor's visual or ultrasound-guided identification of troubled veins. Rather than diluting a sclerosant, as in traditional sclerotherapy, your doctor will then create a foam by quickly combining the medicine with air using two syringes for the exchange. Good doctors will perform this step just before injecting to ensure the freshest foam. Your vein specialist will then track the foam's progress through the vein to ensure success.
Large, tortuous veins are well suited to foam sclerotherapy, since it fills and navigates veins well with less medicine. Patients with recurrent vascular disease should also try foam sclerotherapy since it's more agile than the catheters used in ablation.
Pros Summary:
Excellent choice for large, tortuous veins
Effective new option for those with chronic vein disease
Foam sclerotherapy's advantages can become disadvantages in the wrong hands. Since the foam is so proficient at maneuvering veins, it can travel to perforating veins deeper in your legs when administered incorrectly. Our certified, accredited vein experts in San Diego always map vein pathways to locate any connecting veins before using foam sclerotherapy.
Cons Summary:
Requires expert-level precision
Risky if doctors don't identify connecting veins
Is Foam Sclerotherapy a Good Option for Me?
Patients with reticular veins (unhealthy, yet smaller than varicose veins), or varicose veins who wish to make them less visible should strongly consider foam sclerotherapy. Patients with recurrent vein disease also find foam sclerotherapy to be safer and more effective than previous treatments they've tried.
Pre-Mixed Foam Sclerotherapy
Also known As: Foam Sclerotherapy.
Best For: Large varicose veins, chronic venous insufficiency, cramping, leg heaviness or fatigue, discomfort or restlessness in the legs.
What Is Pre-Mixed Foam Sclerotherapy?
The special canister and optimized foam used in pre-mixed foam sclerotherapy yield superior results. One complication of traditional foam therapy is an air embolism in the bloodstream which impairs both the transit and oxygenation of blood. This occurs when the sclerosant is improperly mixed with the surrounding air. Pre-mixed foam eliminates this issue by fusing higher concentrations of carbon dioxide and nitrogen with the sclerosant prior to sealing it in a canister and delivering it to doctors. Pre-mixing minimizes error in the agitation process and also expedites travel and deactivation of foam for enhanced safety and performance.
How Is Pre-Mixed Foam Sclerotherapy Performed?
Once the vein is detected through sight or ultrasound, your vein doctor will administer foam sclerotherapy to saphenous or deeper veins with a small needle. Rather than agitating the foam themselves, doctors inject the pre-mixed, optimized foam directly from the storage canister.
An experienced provider can use pre-mixed foam sclerotherapy instead of surgery on veins that are hard to treat. This advanced form of sclerotherapy is more effective than previous methods and safer for most patients. Patients whose vascular disease recurs should strongly consider pre-mixed foam sclerotherapy.
Pros Summary:
Highly efficacious
Excellent alternative to surgery for large veins
Strong defense against recurring symptoms
The potency of pre-mixed foam sclerotherapy necessitates a vein expert for safe injection. Since it's newer, this procedure might be costly if your insurance does not cover it yet.
Cons Summary:
Requires expertise and precision
Costly when insurance doesn't cover it
Is Pre-Mixed Foam a Good Option for Me?
Our insurance specialists can determine if you're covered for this procedure, in which case, it's the most efficacious version of sclerotherapy. Pre-mixed foam is also safer and more appropriate for patients than surgery in certain cases.
Also known As: Mechanochemical Ablation.
Best For: Chronic venous insufficiency, discomfort, leg fatigue, restless legs, heaviness, and cramping.
What Is ClariVein?
ClariVein uses two tactics to destroy spider veins and varicose veins. A catheter traumatizes vein walls first, by rotating to weaken the walls mechanically, and second, by releasing a sclerosant to induce chemical damage. The result is closure of the unhealthy vein.
How Is ClariVein Performed?
Your vein doctor cleans the desired entry point with a gentle solution and detects the vein with an ultrasound. Once the injection site is numb, the doctor inserts the rotating catheter to weaken the vein walls and deliver the chemicals that facilitate venous collapse. With ultrasound guidance, the doctor can expertly guide the device through the entire diseased vein for total resolution.
Unlike VenaSeal, there are no substances left in the body after ClariVein. It also causes less swelling since tumescent anesthesia is not used in this procedure. The tiny catheter used in ClariVein is more maneuverable than other devices, granting better access to twisted veins.
Pros Summary:
Absence of tumescent anesthesia reduces swelling
Less likely to cause allergic reaction than VenaSeal
Small catheter accesses tortuous veins more easily
Many insurance providers don't cover this procedure yet. Some doctors report trouble pressing the catheter through a valve, which is uncomfortable for patients.
Cons Summary:
Many insurance providers don't cover it
Uncomfortable when performed by inexperienced doctors
Is ClariVein Right for Me?
Patients with an allergy to the lidocaine used in ablation or an aversion to the glue implant of VenaSeal might prefer ClariVein as their treatment. Strong candidates for ClariVein are those who have insurance coverage or those who understand the cost and the fact that results depend on your doctor's experience.
Also known As: Vein removal, vein surgery, phlebectomy.
Best For: The largest varicose veins.
What Is Vein Stripping?
Vein stripping surgery usually begins with an open incision in your leg, whereby surgeons use various devices to pull and detach the vein.
How Is Vein Stripping Performed?
Doctors will locate the unhealthy vein, usually by ultrasound, and then administer general anesthesia or spinal anesthesia to the patient. Once in the operating room, the vein doctor slices through overlying skin to access the targeted vein. They'll then pull the vein from the body with hooks or wires that tie off the vein. The incision is then closed with stitches.
Some very large or twisted veins need surgical intervention.
Pros Summary:
In limited cases, surgery is the most viable solution
Several less-invasive procedures produce fewer complications and are proven to be safer and more effective than surgery. Qualified vein doctors now avoid surgery whenever possible, viewing it as a last resort.
Cons Summary:
Minimally invasive treatment is now favored for most patients.
Is Vein Surgery Right for Me?
Surgery is no longer a top recommendation for the majority of patients. If your vein is exceptionally tortuous or you have blood clots, surgery might be your best choice. Otherwise, gentler treatments are best.
You deserve to fully comprehend the vein treatment your doctor recommends. If you have any questions about the treatments described above, talk to the experts at California Vein Center for clarification. Our board-certified doctors are highly trained in the top procedures and will explain the best option for you.
So How Do You Know Which Vein Treatment Option Is Best for You?
Vein disease isn't something you can self-diagnose. Some spider and varicose veins are merely superficial, while others stem from disease beneath the surface. Choose a qualified doctor who will customize treatment to your unique condition. Here are five qualities of a reputable vein center:
The vein doctor makes you feel heard:
The vein doctor makes you feel heard:
Doctors are often overbooked, preventing adequate time with each patient. But at California Vein Center, we build extra time into our schedule so we can get to know each patient. Our patients are able to express each concern and receive answers, so they leave with a thorough understanding of their diagnosis and treatment plan.
The vein specialist goes more than skin-deep:
The vein specialist goes more than skin-deep:
Outdated vascular theory presumed that spider veins and varicose veins only resulted from failure of valves in the surface veins. Duplex ultrasound scanning now shows that those surface veins sometimes result from veins deeper below the surface. A doctor who doesn't investigate the cause and simply treats veins at the surface is wasting your time and money, since underlying disease will cause spider or varicose veins to return.
The doctor operates the ultrasound machine:
The doctor operates the ultrasound machine:
Some vein centers employ ultrasound assistants to operate machinery or devices. But the latest treatments utilize ultrasonography throughout the entire treatment process, from locating the vein to obliterating it. So, choose a vein doctor who is fully trained in ultrasound guidance for best results.
The vein centers is certified and accredited:
The vein centers is certified and accredited:
California Vein Center is recognized by the Intersocietal Accreditation Commission as a top vein center with exceptional safety standards. Each of our doctors are board certified and fully trained on the latest equipment and procedures.
The vein treatment plan is uniquely your own:
The vein treatment plan is uniquely your own:
Spider and varicose veins are unique to the individual. Why they originate, where they connect to other veins, and what symptoms they cause vary from one patient to the next. Choose a vein center that creates a treatment plan specifically for you after assessing your venous anatomy. Treatment should always align with your preferences, goals, and any coexisting medical conditions. At California Vein Center, our doctors not only tailor treatment specifically to each patient, but we also have multiple technologies to choose from or even combine for best results.
Your information is encrypted and secure. By registering you confirm that you accept our Privacy Policy.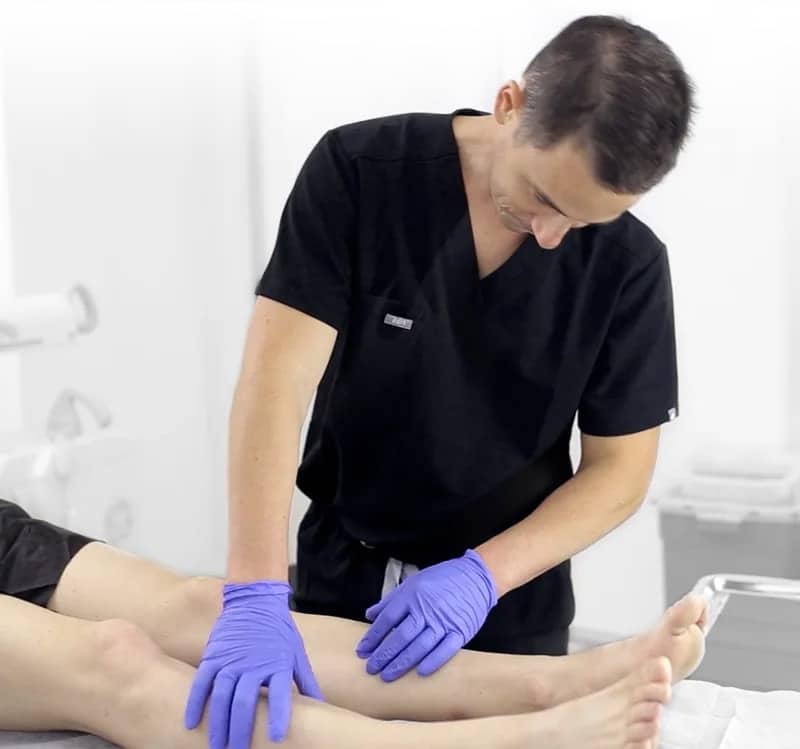 Contact Us
Please talk to our team members for more information on insurance coverage. You can talk to them directly by calling one of our vein centers in California: (858) 800-8772
Book Online
You can schedule an appointment online via our official website. We provide free insurance verification before your appointment.