When should I consult a vein center in CA?
Are you struggling with varicose veins and spider veins, but unsure if your vein problems warrant a trip to a vein specialist? Vein health is not something you want to mess around with as your veins perform a crucial role in your body. They function to pump the blood circulating around your body back up to your heart. If your saphenous veins are not functioning properly, this can cause a range of symptoms, some of which are serious.
Most patients who suffer from spider veins and varicose veins consider consulting with a vein specialist for cosmetic reasons. In fact, there is a far more pressing need to consult with a vein doctor as soon as possible. The presence of varicose veins and spider veins nearly always indicates underlying vein disease, or chronic venous insufficiency.
Signs and symptoms of underlying vein disease include:
Leg heaviness and aching
Itching and irritation around the area of the affected veins
Cramping
Restless legs
Worsening leg fatigue
Swelling of the feet or ankles
Chronic discolouration of the skin due to stasis dermatitis
If venous disease is left untreated it is likely to worsen and can lead to numerous complications, including potentially life-threatening deep vein thrombosis.
While the progression of vein disease is usually slow, and symptoms are initially subtle, receiving prompt treatment limits your risk of complications and increases the chance of achieving excellent results.
A highly skilled and experienced vein specialist will use ultrasound imaging techniques to accurately diagnose your vein problems. He or she will then be able to make decisions about the most suitable minimally invasive vein treatment. So, don't delay, as soon as you notice the signs of underlying vein disease, schedule an initial consultation at a top vein center in CA.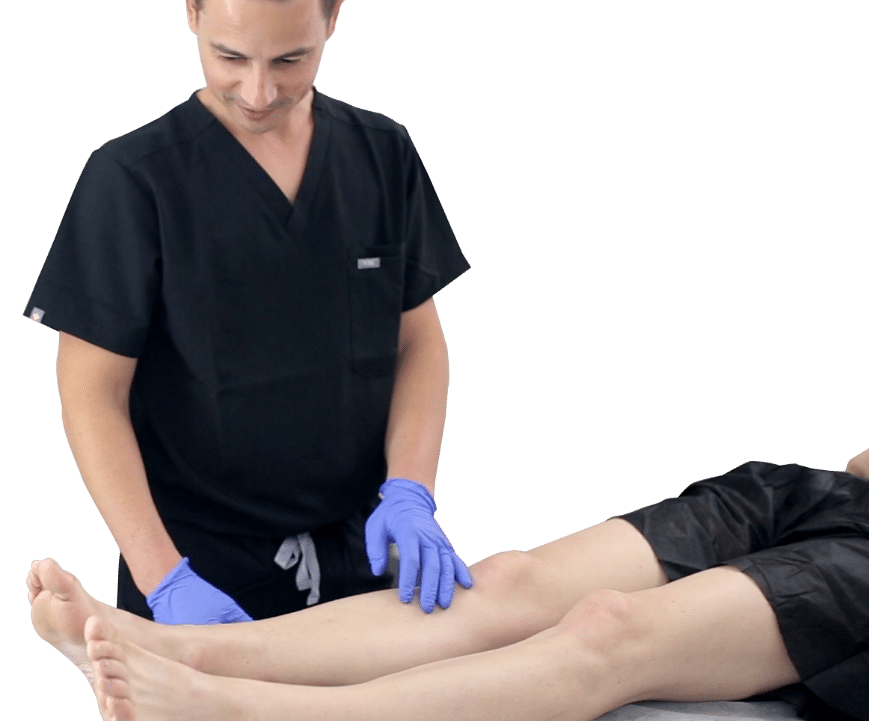 What are the qualities of a good vein specialist?
When seeking varicose vein treatment, you should research your choice of vein doctor carefully. It is important to the success of your treatment to find a doctor who is highly qualified and committed to providing you with the highest standard of care. You may wish to start your hunt for a top vein doctor in CA with a quick online search using a search term such as 'vein center near me CA'.
Once you have a shortlist of potential vein clinics and vein doctors, you can begin to narrow this down by considering the qualities of a good vein doctor. The qualities that the best vein specialists possess include:
A strong educational background– a top vein specialist will have completed residencies and fellowships at prestigious institutions.
Board-certification – while a doctor does not need to be board-certified to provide vein care, board certification guarantees that a vein specialist is highly experienced and skilled. In order to become board-certified, a spider vein doctor must achieve a number of professional milestones, demonstrating their commitment and excellence in the field of vein health.
Experience– seeking treatment for varicose veins from an inexperienced vein physician increases your risk of side effects and complications. A good varicose vein doctor will have a proven track record of providing vein treatment with no complications. Read through patient reviews and testimonials to get a better idea about the standard of care that you can expect to receive at a particular spider vein treatment center.
Possess competency in using ultrasound imaging techniques to diagnose underlying vein disease– there's no point attempting to treat your vein issues without finding out what is causing them, but some vein specialists do just that. The best vein specialists in CA will be skilled at using Duplex ultrasound scanning to identify the root cause of your vein problems.
Friendly and compassionate demeanour – a vein doctor's demeanour can be just as important as their educational experience. You will more than likely need to attend multiple vein consultations during the course of your treatment, so it is important that you feel comfortable and relaxed in the presence of your varicose vein dr. Make sure that you feel confident raising any questions or concerns with your varicose vein doctor. A good vein doctor should listen carefully as you discuss your medical history and symptoms, so that they can devise a tailored treatment plan to address your specific needs.
Specializes in minimally invasive vein treatments– choose a spider vein doctor who offers the latest minimally invasive treatment procedures, such as sclerotherapy, radiofrequency ablation, VenaSeal and Varithena. These cutting-edge treatment options are non-surgical, quick, carry a negligible risk of adverse effects and require no downtime. Avoid vein doctors who offer outdated surgical procedures to you, such as vein stripping, these can be painful and carry a higher risk of complications.
Operates out of a state-of-the-art spider vein clinic– A leading varicose vein specialist will have access to state-of-the-art technology and equipment to ensure that they provide all of their patients with quality vein care. Check out the facilities available in your chosen vein clinic before you commit to your treatment. State-of-the-art vein clinics are equipped with the latest devices, such as VNUS, ClariVein and ClosureFAST or similar vein treatment devices.
Schedule a consultation at a top vein center in CA
Vein Treatment Clinic San Diego is one of the best varicose vein treatment centers in the United States. When you visit our state-of-the-art varicose vein treatment center, one of our double board-certified vein specialists will perform the necessary diagnostic tests to identify the root cause of your vein problem and curate a treatment plan, offering a suitable minimally invasive treatment.
At our San Diego vein center, Dr. Billy Schoenfeld and Dr. Jasmine Koo focus on providing patient-centered care, ensuring that you play an active role in your vein treatment. Our vein clinic is highly accessible, located in the beautiful La Jolla neighborhood, near to Torrey Pines Beach state park and Westfield UTC shopping center.
Schedule a consultation with one of our top spider vein specialists today to start your journey to healthier veins.