How can I find the best vein center near me in CA?
Have you been searching online to find the best 'vein center near me in CA' to treat your bothersome varicose veins and spider veins? In your quest to receive high quality treatment in Southern California, you have probably been inundated with potential vein treatment clinics. So, with so many to choose from, how do you decide which vein clinic is best?
A top varicose vein clinic will employ vein specialists who are leaders in their field. You should choose a vein clinic which has highly trained, board-certified varicose vein doctors on its staff, who have plenty of experience providing treatment for varicose veins. Be sure to check the qualifications and experience of the vein physicians before choosing a vein centre in CA.
A top vein clinic will offer the very latest, minimally invasive vein treatments, such as sclerotherapy, radiofrequency ablation, VenaSeal and Varithena. You should find a vein clinic that works with you to create a customized treatment program to address your specific needs. A good varicose vein dr will take the time to discuss your medical history, symptoms and treatment goals with you before deciding on a suitable minimally invasive treatment option. Minimally invasive vein treatments work by closing down the diseased saphenous veins. Treated varicose veins are then slowly reabsorbed by the body.
Make sure that your chosen vein clinic has access to a full range of diagnostic tools, such as Duplex ultrasound, and that the vein physicians are experienced at using these. Your varicose vein doctor should accurately diagnose any underlying vein disease before suggesting a treatment option for you.
A good varicose vein treatment center will have state-of-the-art equipment and technologies so that they can diagnose and treat your vascular problems in the least invasive way possible.
You should find a vein clinic whose staff are friendly and compassionate and keen to ensure that your treatment experience is as pleasant and efficient as possible. Vein clinic staff should take the time to listen to your queries and concerns and provide you with easy to understand, accurate and up-to-date information.
A reputable spider vein clinic will maintain a strong online presence, providing their patients with the latest, transparent information.
If you are still unsure about which vein clinic to choose, have a read through some patient reviews and testimonials to get a better idea about the standard of treatment that you can expect to receive. Be sure to use trusted review sites to obtain unbiased information.
Most importantly, don't rush your decision. Take your time and research your options carefully using reputable medical sources.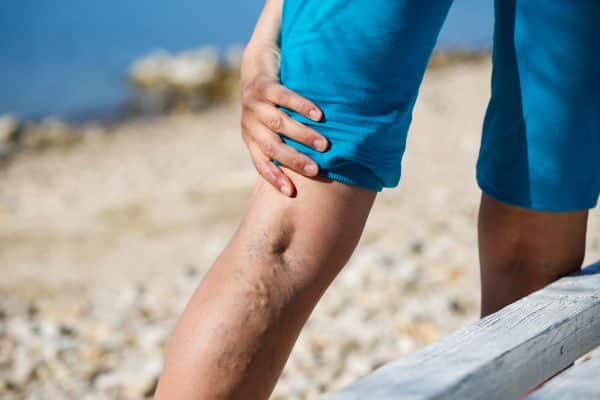 What are varicose veins and spider veins?
Varicose veins and spider veins are generally easy to identify based on their external appearance. Spider veins are dense clusters of purple or red veins, resembling a spider's web, hence their name. Varicose veins are large, bulging veins which may be dark purple, blue, green or red in color and look like a knotted rope. While healthy veins usually form a relatively straight line, varicose veins usually follow a twisting and turning path. Varicose veins and spider veins are often accompanied by other signs and symptoms of underlying vein disease, such as leg heaviness and aching, restless legs, frequent leg cramps and swelling of the feet and ankles.
It is important to seek prompt advice from a skilled vein specialist if you are suffering from varicose veins and spider veins, or any of the other symptoms of venous insufficiency. Treating varicose veins early can minimize the risk of complications, such as profuse bleeding, skin conditions, leg ulcers and deep vein thrombosis.
Can home remedies be used to effectively treat spider veins and varicose veins?
As with most medical conditions, you will find plenty of varicose vein home remedies online, but unfortunately these are mostly ineffective. Given the risks associated with untreated vein disease, it is crucial that you seek effective and reliable treatment from a qualified and experienced varicose vein specialist.
So, is it worthwhile trying any home remedies for relief from your symptoms of vein disease in the meantime? Firstly, it is important to point out that any natural treatments that you try will not cure your spider veins and varicose veins, they will simply help to ease the pressure and pain associated with them. The following are natural treatments that may offer limited relief while you search for a good vein center in CA:
Compression stockings can help to improve circulation through your legs by applying pressure on the blood vessels. This can minimize some of the pain and discomfort associated with varicose veins and spider veins, but offers no permanent treatment. Compression stockings are effective only as long as they are worn.
Exercise also helps to improve the flow of blood through your legs, reducing the accumulation of blood which contributes to pain and discomfort. You should take part in low-impact calf-based exercises, such as swimming, walking, cycling and yoga.
Gentle massage can help to improve blood flow and reduce some of the pain and discomfort caused by vein disease. Although, if you do massage the affected area, don't apply direct pressure onto the dysfunctional veins as the skin in that area is likely to be delicate and fragile.
Schedule an initial consultation with a top spider vein specialist in CA
Vein Treatment Clinic is a state-of-the-art varicose vein treatment center, offering minimally invasive treatment options. Our San Diego-based vein clinic is presided over by Dr. Billy Schoenfeld and Dr. Jasmine Koo, two of the country's leading, double board-certified vein doctors.
Vein Treatment Clinic is highly accessible, located in the beautiful La Jolla neighborhood, with Torrey Pines Beach state park and Westfield UTC shopping center nearby.
Schedule a consultation with one of our top varicose vein physicians today.