Does Medical Cover Varicose Vein Treatment in CA?
Is vein treatment covered by insurance, or is it an elective procedure? Most medical insurance plans cover varicose vein treatment that meets their requirements. Each company has different stipulations for patients to acquire coverage. Some only require a vein doctor's diagnosis. Other companies require venous ultrasound images, a trial of compression stockings, or proof of symptoms.
A qualified vein treatment center can prove treatment necessity and handle the insurance paperwork for you. Book an appointment with our Harvard-trained vein specialists in California to receive the coverage you need. Research continues to link vein problems to several other health issues. So, vein treatment is deemed medically necessary by more insurance carriers than ever before.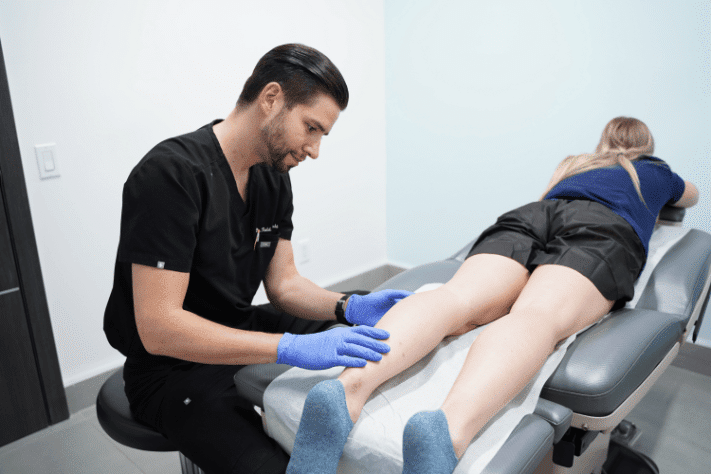 Wondering How to Get Varicose Veins Covered by Insurance?
When does medical cover varicose vein treatment, and when is it elective? To qualify for medically necessary treatment, you need to visit a qualified vein doctor. Cosmetic centers, dermatologists, and other specialists offer treatments that are often considered elective. Many of them lack the ultrasound equipment to produce visible evidence that your issue is more than skin deep. Most varicose veins stem from a problem that you can't see from the surface. When valves fail in deeper veins, blood flows in reverse, which creates bulging varicose veins at the surface.
Choose a board certified vein doctor who can locate the source of the issue with venous ultrasound and provide the evidence your insurance company needs. A minimally invasive vein specialist is the best choice since these doctors have cutting-edge surgical alternatives. The varicose vein surgery cost with insurance is higher than non-surgical procedures since it often includes anesthesia, hospitalization, and downtime from work.
Is Spider Vein Treatment Covered by Insurance?
Spider vein treatment is often covered by insurance, but not 100% of the time. That's why it's important to see a vein specialist, not a cosmetic specialist. Spider veins in the legs often result from the same issue that causes varicose veins, which is valve failure in deeper veins. A vein doctor can prove this with diagnostic imagery. Spider veins can develop in the face for other reasons, like sun damage, skin injury, or illness.
How Do I Get Spider Vein Treatment Insurance Coverage?
Achieving spider vein treatment coverage is the same process as getting varicose vein treatment covered. Choose a vein doctor who can identify the root of your problem since that makes insurance coverage more likely. Vein specialists can fit you with compression stockings if your insurance requires a trial of those first. We'll provide any proof your carrier requests to approve your spider vein treatment.
Is Spider Vein Removal Covered by Insurance Free?
When you're granted insurance coverage, there are often no out-of-pocket fees. Some insurance companies only cover certain vein treatments, so choose a vein center with a wide range of varicose and spider vein treatment options. Our award-winning vein centers offer the top treatments, and we only use FDA-approved procedures that insurance companies recognize. We discuss all the treatment options patients are eligible for so they can make an informed decision.
Does Kaiser Permanente Cover Varicose Vein Removal?
Kaiser Permanente is different from other insurance companies, in that it's both an insurance provider and a health provider. Kaiser insurance requires subscribers to use Kaiser Permanente doctors. If you have Kaiser Permanente insurance and would like to see our vein doctors, contact our office. Our insurance specialists can determine if your treatment is covered before your appointment. We always work to secure the best price for all of our patients.
Does Kaiser Cover Sclerotherapy for Spider Veins?
Is sclerotherapy covered by insurance with Kaiser? Like many plans, Kaiser covers medically necessary treatments. Some spider veins aren't deemed medically significant. If you have spider veins and want affordable care, book a consultation with our team. Our doctors have unique training in Duplex and Doppler venous ultrasound technology, which makes them more effective at proving medical necessity. Vascular health is gaining increasing attention in the medical community because it's linked to a growing number of health concerns. Spider vein treatments like sclerotherapy are covered now more than ever.
What Is the Aetna Varicose Vein Policy?
Is a United Healthcare, Aetna, or Blue Cross Blue Shield varicose vein treatment policy different from Kaiser's? Yes, these large carriers don't provide medical care, so you can choose from a wider variety of doctors. There are several tiers of coverage within each plan, so call our vein center to verify your coverage. We accept all major carriers, including Medicare.
Does Medicaid Cover Vein Removal?
Medicaid has mandatory and optional benefits. Every state must cover the mandatory services. But the optional services are at each state's discretion to provide. So, choose a vein doctor to increase the likelihood of coverage. Physician services are considered mandatory by Medicaid, while clinic services are optional. Avoid estheticians and cosmetic vein centers, if you want Medicaid to cover your treatment. Click here to learn more about Medicaid in California.
Who Are the Vein Doctors That Accept Medicaid?
Many vein doctors accept Medicaid or Medicare. The issue isn't whether doctors accept it, but whether Medicaid will cover varicose vein treatment or spider vein treatment for your particular veins. That depends on variables like the state you live in, as well as the cause of your vein damage, your age, symptoms, and the type of treatment you seek. For instance, a varicose vein caused by Chronic Venous Insufficiency (the valve failure we described above), or a blood clot is more likely to be covered. Visit our qualified vein specialists to ensure every effort is made to obtain full coverage.
Are There Vein Specialists That Accept Medicaid Near Me?
If you're wondering how to get insurance to pay for varicose vein removal, choose doctors that insurance companies trust. Our doctors are all board certified in venous fields, and we're all Ivy-League-trained. In addition, our vein centers are accredited by the Intersocietal Accreditation Commission, which is an exceptionally rare distinction. Visit Dr. Carly Guthrie, Dr. Jasmine Koo, Dr. Amanda Steinberger, Dr. Walter Lech, or Dr. Billy Schoenfeld in our San Diego or San José, California vein centers, for a team that handles insurance for you.
Do I Need a Referral to See a Vein Specialist?
Some insurance plans require you to get a referral for a vein specialist, but that's increasingly rare. Call our Califonia vein centers if you're unsure whether you need a referral. If so, we'll help you find a primary care physician, if you don't have one. Treating varicose veins and spider veins is faster and more affordable than ever with qualified vein specialists. Our world-renowned team looks forward to restoring your vascular health!