How can I find a top spider vein center near me in San Diego?
Have you found yourself asking 'How can I find a top spider vein center near me in San Diego?' as you seek treatment for your problematic varicose veins and spider veins. Are your bulging veins knocking your confidence and causing you to hide your legs away?
Varicose veins and spider veins are caused by an underlying venous insufficiency, or vein disease. Vein disease occurs when valves in your veins malfunction, preventing efficient circulation in your legs and causing blood to pool in your veins. This leads to increased pressure and the formation of varicose veins and spider veins.
It is important to find a top vein clinic in San Diego which will treat your underlying vein disease, to prevent your spider veins from returning. Seeking treatment is crucial to ensure that your vein disease does not lead to any serious complications, such as leg ulcers and Deep Vein Thrombosis.
When searching for a top vein clinic to treat your vein disease, there are a few things to consider:
Find a vein clinic with highly qualified and skilled vein doctors.
Make sure that you choose a clinic which offers minimally invasive treatments. These are safer, easier and more effective than surgical alternatives.
Choose a vein center which offers all the latest state-of-the-art technology and treatments.
Are the staff at the vein treatment center friendly and hospitable? Make sure that you are comfortable asking them questions and that they explain all of the treatment procedures to you carefully.
Does the vein clinic have a good online presence? This is essential for you to get the most up to date information about the clinic easily and can often give you a great insight into the clinic.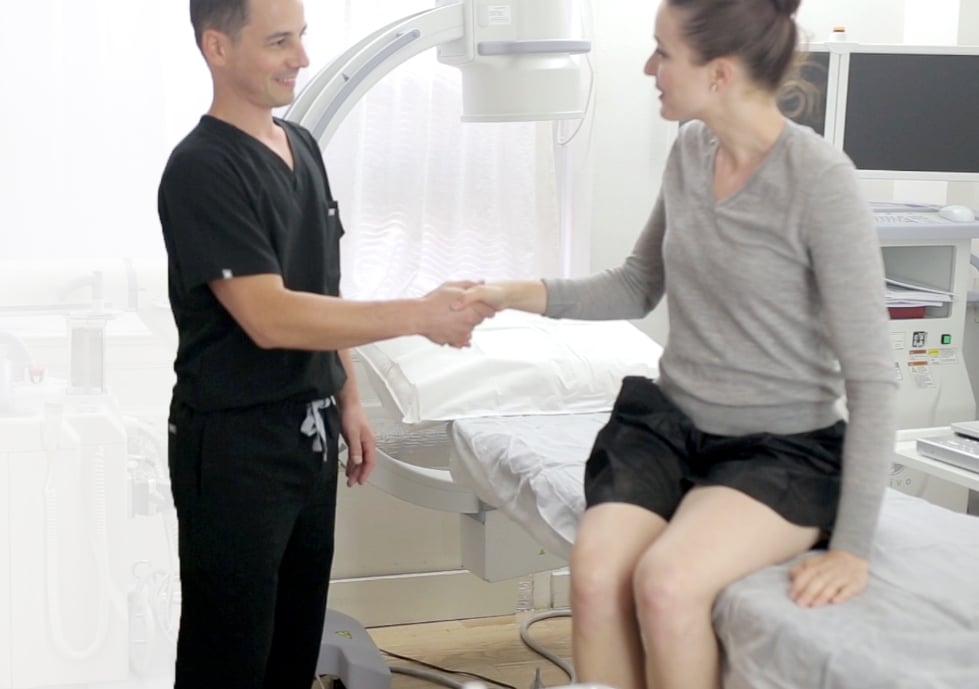 How can I find the most skilled and experienced spider vein doctors near me in San Diego?
The treatment that you receive is only as good as the doctor that performs it. This is why it is vital that you choose your vein physician carefully. So what should you be looking at when researching potential vein specialists?
Firstly, and most importantly, check out the qualifications of the vein doctor. The best doctors will have a strong academic background and may have trained at reputable medical schools, such as Harvard Medical School. Also, read more about their residencies and fellowships. The best vein clinics will have this information readily available on their website. A board certified vascular surgeon will have received extensive training on the treatment and diagnosis of all types of venous diseases.
Check out the vein doctor's experience in minimally invasive vein treatments. They should have many years of experience, particularly in vascular imaging to ensure that they are able to provide an accurate diagnosis as well as exceptional treatment.
Have a read through online reviews and testimonials from their previous patients. These can give you a unique insight into their patient care and general manner. Lots of positive testimonials are very reassuring!
How do spider and varicose vein doctors diagnose underlying vein disease?
Untreated vein disease can lead to further complications, including immense pain and discomfort and skin conditions, such as eczema and Deep Vein Thrombosis. You may also experience an increase in the size and number of varicose veins and spider veins. This is why it is important to seek treatment for your vein disease as soon as possible.
You may be wondering how your vein doctor will diagnose your underlying vein disease? At your initial consultation, your vein dr will take your complete medical history. He or she will also perform a thorough medical examination to look for unhealthy veins.
After this, your doctor will use a specialized ultrasound scanner, called a Duplex ultrasound, to obtain imaging of the veins within your legs. This will take a maximum of 30 minutes and 99% of the time is the only test that you will need to diagnose your underlying vein disease.
How can a varicose vein specialist use minimally invasive procedures to treat varicose veins and spider veins?
Minimally invasive procedures used for spider vein and varicose vein treatment include sclerotherapy, VenaSeal, radiofrequency ablation and Varithena. These treatments work to shut down your malfunctioning veins and redirect blood flow into healthy functioning veins, restoring the return of blood back to the heart.
Minimally invasive vein treatments will take up an hour of your time at the most. Side effects associated with minimally invasive vein treatments are typically mild and short lived.
Seeking treatment from a top varicose vein dr is crucial to ensure that you are provided with the very best, tailored treatment plan. The best choice of treatment for you will depend upon a number of different factors, including the size and shape of your diseased veins, your age and any other medical conditions that you may have. If you have spider veins but no underlying vein disease, then your spider vein dr will be able to offer you sclerotherapy, which is the most effective treatment for cosmetic spider veins. Laser treatment for spider veins is an extremely long process and significantly more expensive than sclerotherapy. This is why laser vein treatment is typically not recommended.
Schedule an appointment at a Vein Center near me in San Diego
When searching for a spider vein center near me in San Diego, you may have heard about Vein Treatment Clinic. Vein Treatment Clinic is a top spider vein and varicose vein treatment center with highly experienced and skilled doctors. Dr Schoenfeld, a Harvard trained vein doctor, is a specialist in the treatment of varicose veins and underlying venous insufficiency. Dr Guthrie is also a Harvard trained physician and is highly skilled in ultrasound-guided vascular therapy. Vein Treatment Clinic is located in a beautiful area, near to the Torrey Pines beach state park and the Westfield UTC shopping center. Schedule your initial vein consultation today.