How Can I Find the Best Varicose Vein Treatment Center Near Me in SD?
Are you suffering from spider veins and varicose veins? If so, you may be wondering "how can I find the best varicose vein treatment center near me in San Diego?"
Before starting your search, you need to understand the characteristics of a top varicose vein treatment center. The following qualities are essential when choosing a vein center for your treatment:
Presence of highly skilled and qualified vein doctors.This is, of course, the most important consideration when choosing the best vein treatment clinic for your vein care. Your chosen vein doctor should have active, vascular-specific board certifications and extensive experience in the diagnosis and treatment of vein disease, or venous insufficiency. Look for vein doctors who have completed residencies and fellowships at prestigious institutions, such as Harvard Medical School and other Ivy League Universities.
The use of minimally invasive procedures, such as radiofrequency ablation, sclerotherapy, VenaSeal and Varithena, to treat underlying vein disease. These treatments work to close off the diseased vein, allowing blood to reroute through healthier veins straight away. Endovenous laser ablation is also a minimally invasive vein treatment option, however it is not typically recommended because it causes significantly more discomfort than both radiofrequency ablation and VenaSeal.
Vein doctors skilled in the accurate diagnosis of vein disease. The vein doctor at your chosen vein clinic should be skilled at using ultrasound imaging techniques to effectively diagnose the root cause of your spider veins and varicose veins, before embarking on any treatment.
Access to the latest, state-of-the-art technology and equipment.
A strong online presence and plenty of highly positive testimonials from previous patients. A top vein clinic will have an up-to-date and highly informative website, as well as an active social media presence.
Friendly and approachable staff who are happy to take the time to answer your questions and provide you with easy to understand, yet insightful, information.
Taking all of these qualities into account when choosing a vein center near me in SD will ensure that you make the best choice possible.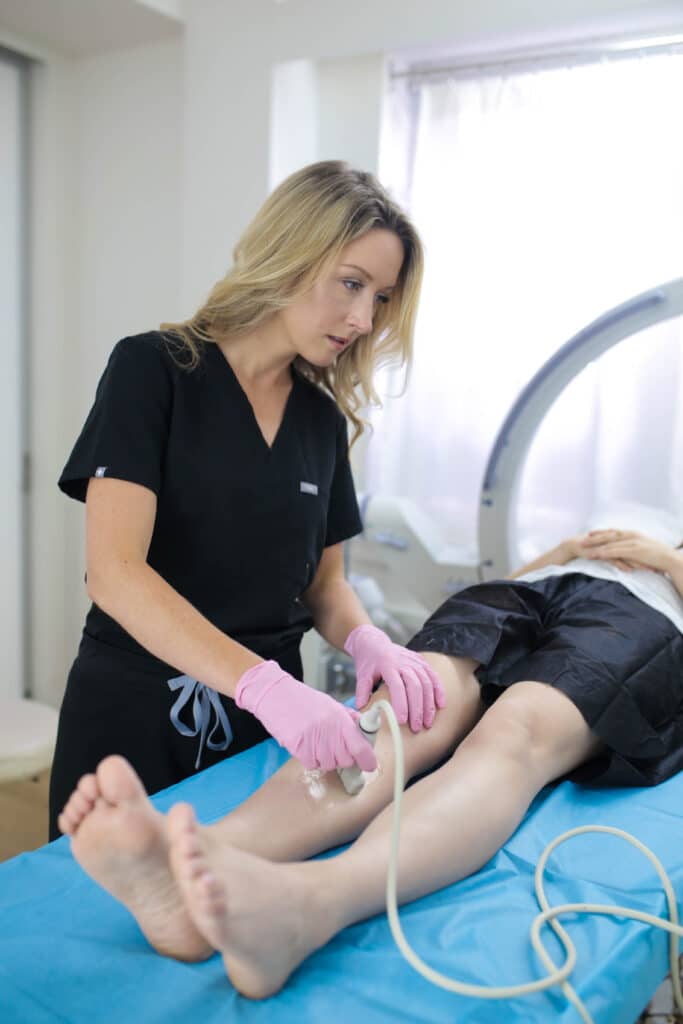 Why is it important to seek treatment for spider veins and varicose veins?
If you have visible spider veins or varicose veins, or have noticed some of the more subtle signs of vein disease, such as leg heaviness and aching and frequent cramps, it is important to seek treatment from a top vein doctor as soon as possible.
Delaying the treatment of underlying venous disease can lead to a number of serious risks and complications, including:
A loss in self confidence due to the appearance of varicose veins and spider veins. Untreated venous insufficiency will progress, ultimately leading to an increase in the size and number of spider veins and varicose veins.
Immense pain and discomfort as varicose veins and spider veins grow larger.
Bulging varicose veins can bleed profusely when bumped or scratched. This bleeding is often difficult to control.
Skin conditions, such as eczema, or stasis dermatitis, lipodermatosclerosis and leg ulcers.
Deep Vein Thrombosis, a serious condition, which can lead to further vein damage or even a potentially fatal pulmonary embolism.
Clearly, spider veins and varicose veins can lead to many complications if left untreated. The good news is that they can be easily treated, using minimally invasive procedures, with no or minimal downtime. Seeking early guidance from a varicose vein treatment center near me in SD is essential to achieving optimal vein health.
How will a vein doctor diagnose the root cause of your spider veins and varicose veins?
It is important that your vein doctor accurately diagnoses your underlying vein disease so that you can receive the most appropriate treatment. If you have never visited a vein clinic before, then you are probably wondering how a top vein specialist accurately diagnoses the root cause of your spider veins and varicose veins. The following is an overview of what you can expect when you attend a top varicose vein treatment center:
Initial examination – firstly your vein physician will perform an initial examination of your large and small saphenous veins, looking for unhealthy veins. He or she will also take a complete medical history, discussing your symptoms with you and assessing for any risk factors.
Ultrasound imaging – your varicose vein dr will then obtain images of the large and small saphenous veins in your legs using Duplex ultrasound, a combination of Doppler and conventional ultrasound. He or she will be looking for signs of valve problems or venous reflux, which would indicate chronic venous insufficiency. This diagnostic procedure should only take around 30 minutes at the most and requires no radiation or injection. Most of the time, around 99%, Duplex ultrasound is the only test needed to accurately diagnose the presence of underlying vein disease.
Schedule an initial consultation with a top varicose vein doctor today
Vein Treatment Clinic is the best, highly reputable varicose vein treatment clinic located in San Diego. Our double board-certified varicose vein specialists, Dr.Billy Schoenfeld and Dr. Carly Guthrie,  bring a wealth of experience of treating venous diseases and are passionate about providing all of their patients with comprehensive care. Our San Diego clinic offers minimally invasive varicose vein treatments as standard and benefits from the latest, state-of-the-art infrastructure. Vein Treatment Clinic is located in a beautiful neighborhood  near to Torrey Pines Beach state park and even Westfield UTC shopping center, if you fancy combining your vein appointment with a spot of retail therapy!
Schedule your initial consultation today with one of our leading varicose vein treatment specialists.