When putting your health in someone else's hands, it is important to do some research on the doctor who will be treating you. If you've found yourself seeking out a vein doctor, you're likely to be looking for treatment for a vein disease, like varicose veins and spider veins, deep vein thrombosis, or chronic vein insufficiency,  just to name a few. A vein doctor is called a phlebologist, and they can come from a variety of fields of medicine, including anesthesiology, cardiology, and emergency medicine, as long as they have the proper training to treat veins.
In the age of the internet, all of the information about a vein doctor CA can be found right at your fingertips, so don't just stop on a vein center's website home page. Instead, explore staff pages for details about the doctors' educational backgrounds and work experiences to ensure that they have the expertise to provide you with the best possible care. Read through the vein treatment clinic's patient testimonials to learn more about the vein doctor's patience and diligence in explaining treatment procedures and familiarizing themselves with a patient's medical history and conditions.
After exploring a vein clinic's website, use the contact information provided to reach out and ask any follow-up questions. The staff at the vein center will be able to clear up any additional questions you may have about your vein doctor before paying the vein treatment center a visit.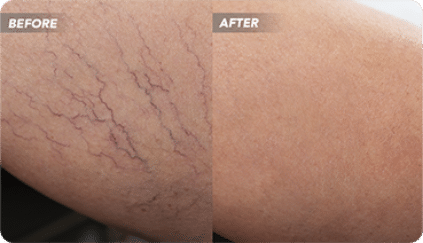 Minimally Invasive Procedures
Although treatment for varicose veins and spider veins used to be exclusively through surgical procedures, medical innovation has brought us to a time in which we can treat varicose veins and spider veins through minimally-invasive treatments. You should always choose a vein doctor at a vein clinic that offers minimally-invasive procedures, to ensure that you are receiving the highest quality of care.
Spider Vein Treatment
The best spider vein treatment available is sclerotherapy, a non-surgical minimally-invasive treatment that uses small needles to inject medicine into the veins that will significantly improve their appearance in just a month. The whole procedure takes less than a half-hour, causes little to no discomfort, and has no anesthesia or recovery time involved.
Varicose Vein and Venous Insufficiency Treatment
Varicose veins and venous insufficiency can also be treated with non-surgical minimally invasive treatments such as VenaSeal, radiofrequency ablation, or varithena.
VenaSeal is an FDA-approved vein adhesive used to seal the saphenous vein in the leg that causes varicose veins, and doesn't require any local anesthetic. The VenaSeal glue closes the diseased vein, and this seal will eventually reroute the blood automatically through the healthy veins in your legs. This is also a treatment that has little recovery time, is highly effective, and causes minimal discomfort.
Radiofrequency ablation starts with the administration of a local anesthetic, then insertion of a small catheter into the unhealthy vein, using ultrasound imaging to help the vein doctor guide the catheter to the right place. After a numbing solution is delivered to the vein, the catheter is activated and delivers thermal energy to the vein walls to close them down. The procedure takes less than an hour, is effective immediately, and is associated with minimal pain and discomfort.
Varithena is a sclerotherapy foam injected into the vein to reduce both the appearance and symptoms of varicose veins. Similarly to the first two treatments mentioned, the procedure seals off the damaged veins then reroutes blood flow, takes less than an hour, and there is no pain or discomfort involved.
Avoid vein doctors and vein centers that recommend endovenous laser ablation, which uses a laser to close off the disease veins. Although the process seems comparable to the other treatments at first glance, this treatment is set apart by its week-long recovery time. You would have to wear a compression stocking, and there is a lot more pain and discomfort resulting from this procedure than the previous treatments mentioned.
There are some incredible California vein doctors, including Dr. Jasmine Koo and Dr. Billy Schoenfeld at the San Diego Vein Treatment Clinic, who are highly experienced and well-versed in vein care. They would love nothing more than to provide you with the highest standard of care with cutting-edge minimally-invasive treatment and compassionate professionalism.
Dr. Koo specializes in minimally invasive treatments for spider and varicose vein removal, and is an expert in the field of venous reflux disease. She earned her M.D. from the prestigious Chicago Medical School, and completed a fellowship in minimally invasive procedures at the University of Texas Interventional Radiology Department.
Dr. Schoenfeld strives to bring new state-of-the-art vein treatment and technologies to California, and is focused on introducing new therapies to San Diego, including the new FDA-approved VenaSeal procedure for varicose vein treatment. His areas of expertise include venous medicine, anesthesiology, and critical care, and he received his medical training at Harvard.
It's important to find a vein doctor who is highly trained and experienced with ultrasound and minimally invasive procedures so that you can be sure that you are receiving the highest standard of vein care. It is equally important that you seek a vein doctor who is compassionate, understanding, and able to communicate with you effectively at all stages of treatment. Dr. Jasmine Koo and Dr. Billy Schoenfeld are board-certified, kind and approachable, and prioritize patient care above all else, as they seek to provide everyone who sets foot in the vein treatment center with a pleasant visit.
Our clinic in San Diego is located in a beautiful neighborhood called La Jolla, near the Torry Pines Beach State Park and Westfield UTC Shopping Center. End your search for a vein doctor CA and set up an appointment to come visit us! You can call our office, where a friendly staff member would be happy to speak with you, or book an appointment online.